Welcome to Anglesey Adventures' School Groups section. With over 20 years working with school groups from around the UK, Anglesey Adventures provide School Groups with inspiring multiday activity packages and adventure days that are expertly designed to meet your Education Authority requirements and provide a memorable experience for both staff and pupils.
Interaction and bonding form a great learning platform and our school group activities can be designed around your curriculum needs. Taken as a great learning experience, Anglesey Adventures' school groups adventure activities are tailored to the needs and abilities of all your pupils, helping them to develop and promote teamwork and leadership skills in new exciting challenges, that are great fun and a truly unforgettable experience.
Anglesey is an area of outstanding natural beauty and provides the perfect setting for a vast range of adventurous activities, both on water and land. Anglesey is blessed with an abundance of zawns, caves, rock pools and cliffs which provide superb examples of fossils, minerals and rock strata, highlighting the history from the beginning to the present day. From ancient history to environmental and conservation studies, Anglesey Adventures' School Groups adventure activities are a great way of combining education and fun.
Through enjoyment and motivation Anglesey Adventure's School Groups are encouraged to achieve their personal best in a safe and caring environment. Each child will develop new skills, grow in confidence through their learning experience and adventure challenges and be given the opportunity to find their forte and fulfil their potential.
All our School Group activities are risk assessed in writing and risk management practices are put in place to manage them. Health and Safety is our prime consideration and is the driving force behind everything we do. Licensed by the Adventure Activities Licensing Authority for Watersports, Mountaineering and Trekking, Anglesey Adventures' School Group adventure activities adhere to rigorous high standards of safety. All our staff are highly qualified and chosen for their expertise.
If you are looking for an outdoor adventure activity programme for your School Group, Anglesey Adventures will be happy to assist with impartial advice to create a truly wonderful learning experience for pupils and teachers alike.
To help ease the organisation of multiday trips, Anglesey Adventures offer a full package and can assist with locating appropriate accommodation, arranging minibuses/coaches and any other recommendations that you may require to make the whole experience easy and enjoyable.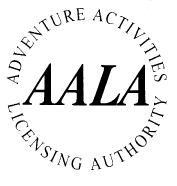 Anglesey Adventures hold the AALA license which was granted through the Health and Safety Executive and acknowledges that we have met and exceeded safety standards for the activities we provide.
Gallery